Essential Food Seasoning to Spice up the Food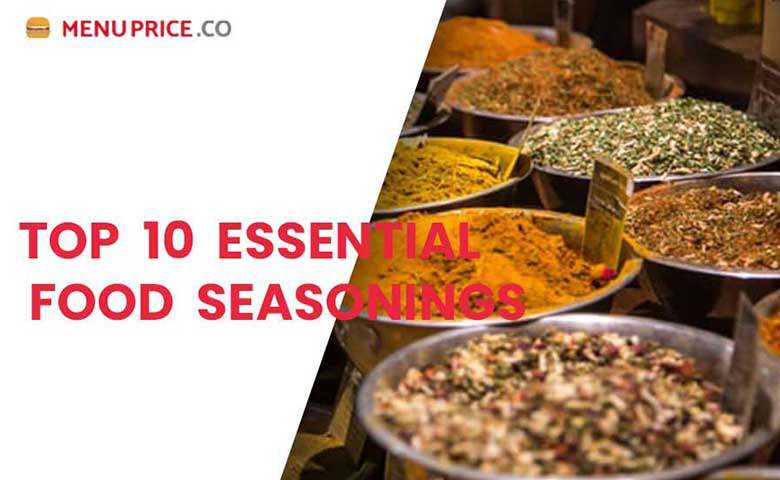 Spices are an essential ingredient in many cuisines used to flavor and color food dishes. The history of spice usage goes back to 2000 BCE when cinnamon and black pepper were used to be cultivated and traded in South Asia. Now the spices are now not only used in preparing food recipes, but also used in medicine, perfumes and herbal solutions. Here are the list of essential spices that are powering the different food recipes around the world.
Table of Contents
---
Turmeric Powder

Turmeric Powder is bright yellow powder made from dried turmeric. It's used extensively in Indian and oriental culinary food recipes. It's considered to be a potent anti-inflammatory and antioxidant. It's also used in herbal medicine as well as its derivatives in English medicine.

Paprika

Paprika is a powdered spice with a deep orange-red color made from dried and ground red peppers. It has a mild to hot flavor. Paprika is almost universally used in most of the variety of cuisines. It's used as seasoning as well as garnish. Paprika has high Vitamin A content.

Cardamom

Commonly grown in India and Indonesia, cardamom is a popular flavorful spice from the ginger family of plants. Due to its aroma and flavor, it's used in many of the Indian dishes from curries to dals. It's also used in various cuisines in South East Asia.

Cloves

Cloves are an aromatic flower bud used as spice from the Myrtaceae tree family. Clove tree is an evergreen tree with large leaves and red flowers. Dried cloves are used extensively in Indian and Middle Eastern cuisines. In addition to its culinary uses, it's also used as an ingredient in traditional medicines and herbal solutions.

Coriander Seeds

Coriander Seeds are aromatic seeds from the parsley family of plants used as spices and herbs. Coriander seeds are used in Indian and Middle Eastern cuisines. Coriander seeds are rich in dietary fiber and minerals such as iron, manganese and calcium. In addition to seeds, coriander leaves are used in making chutney, salsa, salads and more.

Cumin Seeds

Cumin Seeds are another aromatic seed from the parsley family of plants with its origin in Iran and Central Asia. Similar to coriander, cumin plants have been grown and seeds consumed since the 6th millennium BC. Due to its distinct aroma and flavors, cumin seeds are used in herbal medicines, ingredient in food recipes, as essential oil and in perfumes.

Cinnamon

Cinnamon is another common spice from dried barks of the Cinnamomum genus of trees. The tree, its leaves and inner bark have a strong aroma and flavor. Most of the cinnamon is produced in Indonesia and China. Cinnamon is used as spice in food recipes, flavoring in cakes, dishes and drinks.

Fennel Seeds

Fennel Seeds, also known as saunf in Hindi, is a seed spice from a yellow flowered aromatic plant from the parsley family with feathery leaves. Due to its strong flavored leaves and seeds, it is cultivated mainly in India, with minor production in China and Bulgaria. Fennel seeds along with plant and bulb are used as ingredients in different cuisines in India and Middle East countries. It's also one of the main herbs used to prepare absinthe.

Mace

Mace is a reddish color sparse layer of material covering the seed in nutmeg fruit. Mace in its dried form is used as spice in oriental cuisines for its strong flavor, aroma. Mace is also used in traditional medicine, perfumes and essential oil. Mace originated in Banda Island in Indonesia. Indonesia along with Guatemala and India, accounts for 85% of the production of mace and nutmeg.

Mustard Seeds

Mustard Seeds are another commonly used spice in India and South Asian countries. Mustard seeds are small round seeds grown in a mustard plant. Along with Mustard seeds, mustard oil and mustard oil are used in Oriental and Indian cuisines.

Nutmeg

Nutmeg is ground powder or seed from nutmeg trees. Nutmeg has a strong aroma and slightly sweet taste. Nutmeg has its origin in the Banda Islands in Indonesia. Currently it is commercially grown in Indonesia, Guatemala and India. Traditionally, it is used in Indian and oriental cuisines.

Black Pepper

Black Pepper is black dried seed or ground powder used as spice from the Piperaceae family of vines. Ground black pepper is commonly used as seasoning. The whole dried seed of Piperaceae vine comes in white, pink, green and black color. In India, black pepper is extensively cultivated and consumed. In addition to being used as spice and seasoning, it's also used in traditional medicine. Black pepper has moderate amounts of Vitamin K as well as minerals such as manganese and iron.

Garlic Powder

Garlic Powder is another commonly used spice obtained by dehydrating garlic cloves. Garlic powder is used as spice as well as seasoning. It has a long history of culinary usage originating in Mesopotamia. three fourth of the world's garlic production is from China.

Garam Masala

Garam Masala is a mixture of spices commonly used in Indian food recipes. It is a blend of spices such as Cardamom, Black Pepper, cinnamon, cloves, nutmeg, fennel, bay leaves, cumin and mace. Garam masala is favored for usage as an ingredient in South Asian cuisines as it's easier to store and use instead of individual spices.