Top 10 Fast Food Menu Items in the World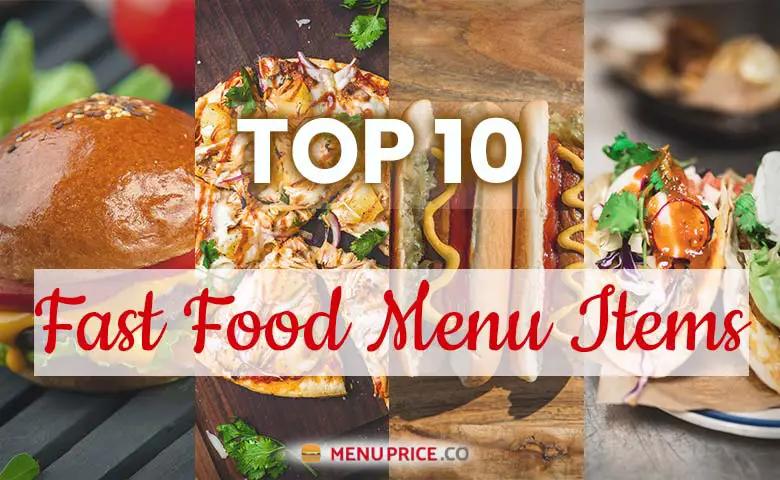 In recent times, fast food restaurants have been popular places to eat food. With many fast food brands serving everything from hamburgers to tacos, there is an appetizing item for everyone's taste. Although the cultures vary in different parts of the world, fast food has standardized the menu items and made it available to all. Based on the fast food restaurant and menu data, we've compiled a list of top fast food menu items.
Table of Contents
---
Cheeseburger

Cheeseburger is one of the most popular fast food menu items consumed in the world. People may not have equal universal affinity to meat burgers such as chicken, beef or pork. But most tend to agree, a slice of cheese between the burger buns makes it slightly preferred over a plain hamburger. Cheeseburgers are a staple food item in many fast food restaurants. McDonalds offers Cheeseburgers with a slice of American cheese, Burger King offers Dollar Menu Cheeseburgers, Sonic has Sonic Cheeseburgers.

French Fries

Setting the french wines apart, French Fries are one of the most iconic export items of the french food world. Whether you prefer pizza or burger or hot dogs, french fries can be a great addon to make a complete meal experience with drinks. Another alternative to french fries side dish is twisters and potato wings.

Cheese Pizza

Cheese Pizza is another cheese based fast food item that made it into our list of top 10 fast food menu items. When there is a group of people with different preferences for pizza flavors, Cheese topping is a pretty neutral and acceptable flavor to share. Several types of cheese pizza are served in Pizza Hut, Domino's and Papa John's Pizza.

Chicken Burger

Chicken Burger is another hamburger popular with fast food enthusiasts. Chicken burgers come with regular, spicy, special flavors and can have single, double or multiple chicken patties to serve a filling meal. McDonald's offers Spicy McChicken speciality chicken burgers. Burger King has chicken sandwiches on the menu. Chicken burgers are also served in popular fast food restaurants such as Subway, Wendy's, Sonic and Carl's Jr.

Hotdog

Hot dogs are a popular street food originating from Germany. It consists of sausage placed inside a partially slit long bun. Depending on the preference, condiments and garnish placed in the bun vary from place to place. Typically cheese, onion, sauerkraut are used to garnish hotdogs along with condiments such as mayonnaise, ketchup and mustard sauce.

Beef Burger

Beef burgers are the original hamburger consisting of beef or ground meat patties placed between two slices of bun. With the advent of fast food restaurants, beef burgers come in a variety of sizes, patties and flavors. Popular fast food beef burgers include Burger King Whopper, McDonald's Quarter Pounder, Sonic Burgers and more.

Crunchy Taco

Crunchy Taco, also known as Crispy Tacos or Hard-shell tacos are crispy tortilla based dishes in Mexican cuisine. It consists of crunchy fried tortilla along with guacamole, sour cream, onion, tomato, salsa, cheese lettuce and ground beef or meat. Fast food restaurants such as Taco Bell, Chipotle has specialize menu based on tacos.

Pepperoni Pizza

Pepperoni Pizza is another Pizza on our list of most popular fast food menu items. Pepperoni pizza consists of sliced pepperoni topping along with other pizza ingredients. The red color pepperonis produce a distinct finishing on the pizza. Pepperoni Pizza is common flavor available in fast food pizza based restaurants such as (Domino's](https://dominos.com/), Pizza Hut, Little Caesers, Papa John's Pizza and more.

Chicken Nuggets

Chicken Nuggets are an unspoken item on the list of popular fast food menu items. It is prepared by deep frying boneless chicken meat with batter in standard nugget size. Chicken nuggets are commonly available as add ons or side dishes in many of the fast food restaurants. McDonald's offers Chicken McNuggets which has its own wikipedia page.

Sundae

Sundae is commonly served as a dessert in fast food restaurants in the United States. Sunde are prepared by topping syrups, fruits or sprinkles on scoops of ice cream. Popular variants include banana split sundae, classic ice cream sundae, American parfait, brownie sundae among other variations. Sundaes are the best dessert to finish a filling fast food meal.