Mr Wong Menu Australia
Mr Wong has menu items like Dim Sum Steamed, Dim Sum Fried, Dim Sum Cheung Fun, Entree Raw, Salads, Cold Cuts & Appetizers, Dim Sum Platters, Soup, Roast Meats, Seafood, Meat, Tofu & Vegetables, Rice & Noodles and Dessert in Australia.
Australia is a land of many cultures, and one of the most popular is Chinese culture. One of the most well-known aspects of this culture is the food. Mr Wong is a fast food chain that specializes in Chinese cuisine. The menu features a variety of items, including traditional Chinese dishes, dessert items, and more. The prices for these items are very reasonable, and the quality is excellent. Mr Wong has become a popular choice for those looking for a quick and delicious meal.
Dim Sum Steamed
Scallop and prawn shumai
A$16.00
King prawn and bamboo shoot dumpling
A$14.50
Lobster and scallop dumpling
A$16.50
Crystal seafood dumpling with golden soup
A$20.80
Pork and prawn shumai
A$16.00
Wild mushroom dumpling
A$14.00
BBQ pork buns
A$14.00
Pork xiao long bao
A$16.00
Coral trout and prawn dumpling
A$18.00
Spinach, prawn and morel mushroom dumpling
A$16.80
Roast duck and chive dumpling
A$14.00
Baby spinach dumpling
A$14.00
Dim Sum Fried
Wagyu and truffle puff
A$18.00
Aromatic duck spring roll
A$15.00
Prawn toast with foie gras and sesame
A$16.50
King crab and mozzarella roll
A$16.80
Crispy prawn and crab parcel
A$16.80
Pan fried chicken and chive dumpling
A$16.00
Sanpei roast pork belly "Ham Sui Gok"
A$16.00
Pan fried Sichuan style lamb dumpling
A$15.50
Crispy Pak choy and calamari roll
A$16.00
Dim Sum Cheung Fun
Prawn and crispy dough rice roll
A$18.00
BBQ pork rice roll
A$14.50
Crispy Vegetable and bean curd t
A$16.80
Scallop rice roll
A$20.00
Egg white, asparagus and prawn rice roll
A$16.50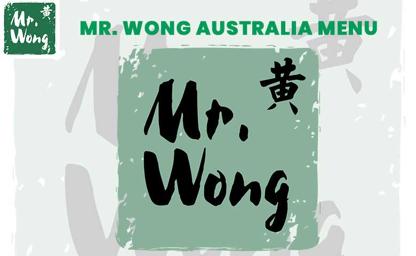 What are the Mr Wong menu prices near me?

Mr Wong has menu item prices between A$4.5 and A$98.0. Menu items range from lowest priced item Rock oysters to highest priced item Wagu 9 striploin.
The price range of the menu of Mr Wong at the store generally varies between:

What is Mr Wong Australia Website Link?

Mr Wong Australia official website is https://merivale.com/venues/mrwong/
Mr Wong Australia Menu Categories