Sporting Globe Menu Australia
Sporting Globe has menu items like Warm Ups, Wraps, Burgers, Parmas, Salad Bowls, Grill, Sides, Beverages, Kids Meals, Desserts and Extra Sauces in Australia.
In Australia, the Sporting Globe is a chain of restaurants that serve American-style cuisine. The menu features wraps, burgers, and sandwiches. The average cost of a meal at the Sporting Globe is $10-$15.
The restaurant was founded in Melbourne in 2006 by two Americans, Justin and Josh. The first location was in the CBD on Collins Street. The second location opened in 2007 in St Kilda. In 2008, the company expanded to Brisbane and Perth.
The company has been successful in Australia and has plans to expand to other countries. The menu is reasonably priced and the food is of good quality. The atmosphere of the restaurant is casual and relaxed, making it a great place to watch sporting events with friends.
Warm Ups
Wings
A$15.50
Boneless Chicken Bites
A$15.50
Mac & Cheese Bites
A$15.50
BBQ Parma Sliders
A$21.90
Garlic Cobb Loaf
A$12.90
Pulled Pork Sliders
A$19.90
Vegan Bites
A$17.50
6 Wings
A$15.50
Cheeseburger Mac Bites
A$15.50
Wraps
Touchdown Chicken Wrap With Fries
A$21.90
B&F Parma Wrap With Fries
A$23.90
Portuguese Chicken Wrap with Fries
A$22.90
Veggie KO Wrap with Fries (V)
A$20.90
Burgers
Champion Bacon Cheese Burger with Fries
A$23.90
Chicken Crunch Burger with Fries
A$27.50
Buffalo Chicken Burger with Fries (Spicy)
A$27.50
The Vegan Burger with Fries
A$29.50
Aussie Lot Burger With Fries
A$29.50
Grand Slam 2.0 Burger with Fries
A$30.90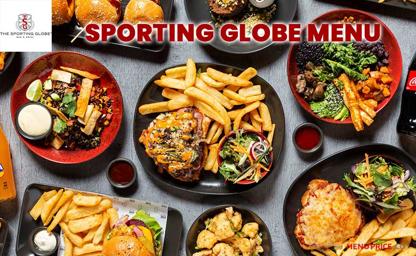 Sporting Globe Australia FAQ
What are the Sporting Globe menu prices near me?

Sporting Globe has menu item prices between A$0.5 and A$50.5. Menu items range from lowest priced item Tomato Sauce to highest priced item Beef Ribs.
The price range of the menu of Sporting Globe at the store generally varies between:

What is Sporting Globe Australia Website Link?

Sporting Globe Australia official website is https://www.sportingglobe.com.au/
Sporting Globe Australia Menu Categories