Top Juice Menu Australia
Top Juice has menu items like Fruit Salad, Super Foods, Yoghurt with Topping, Fruit Juices, Veggie Juices, Smoothies, Dairy Free Smoothies, Frappes, Protein Shakes, Green Smoothies, Breakfast Smooslies, Chocolate Dipped Fruit, Create Your Own, Melon Mix, Fresh Coconut, Pudding and Protein Balls in Australia.
Australia is a land of plenty when it comes to fruit, and that means there are plenty of chances to get your juice fix. Here are the top five places to get your juice on Down Under.
If you're looking for fresh, made-to-order fruit juice, Top Juice is the place to go. With locations all over Australia, you're never far from a delicious cup of freshly squeezed goodness. The menu features all sorts of juices, frappes, and smoothies made with real fruit – no artificial flavors or syrups here! Prices start at just $3.50 for a small cup, so it's easy on the wallet too.
For something a little different, check out Boost Juice Bars.
Fruit Salad
Fruit Salad
A$8.90
Super Foods
Acai Bowl
A$14.50
Yoghurt with Topping
Pistachio and Cranberry
A$8.90
Mixed Berry Yoghurt
A$8.90
Toasted Muesli Strawberry Banana Dried Coconut Yoghurt
A$8.90
Strawberry Banana Passionfruit Yoghurt
A$8.90
Apple Crumble Yoghurt
A$8.90
Cacao Crunch Yoghurt
A$8.90
Bircher Muesli
A$8.90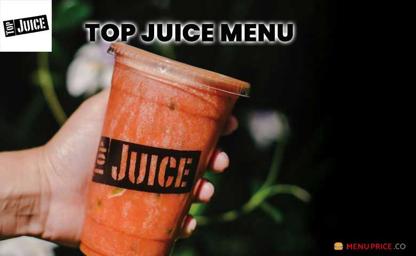 What are the Top Juice menu prices near me?

Top Juice has menu item prices between A$3.25 and A$14.5. Menu items range from lowest priced item Milk Chocolate Strawberry to highest priced item Acai Bowl.
The price range of the menu of Top Juice at the store generally varies between:

What is Top Juice Australia Website Link?

Top Juice Australia official website is https://topjuice.com.au/
Top Juice Australia Menu Categories