Boost Juice Menu Australia
Boost Juice has menu items like Tropical Juice, Berry Juice, Cheeky Juice, Fresh Juice, Protein Drinks and Vegan Juice in Australia.
Boost Juice is an Australian institution. The company was founded in 2000 by Janine Allis and has since become one of the most popular quick service restaurant chains in the country. Boost Juice now has over 400 stores across Australia, New Zealand and South Africa.
The menu at Boost Juice is extensive, offering a wide range of juices, smoothies, frappes, salads and pizzas. Prices for juices start at $3.95 for a small size, with smoothies starting at $5.95. Pizzas start at $9.95 for a small size and salads start at $7.95.
Boost Juice is the perfect place to grab a healthy and delicious meal on the go. With its convenient location in shopping centres across Australia, Boost Juice is the perfect place to refuel after a busy day of shopping or sightseeing.
Tropical Juice
All Tropical drinks – JUNIOR size
A$6.20
All Tropical drinks – MEDIUM size
A$7.20
All Tropical drinks – ORIGINAL size
A$7.80
Mango Magic
A$7.80
Passion Mango
A$7.80
Fine Pine Mango
A$7.80
Green Tea Mango Mantra
A$7.80
Banana Buzz
A$7.80
Mango Tango Crush
A$7.80
Watermelon Crush
A$7.80
Lychee Crush
A$7.80
Berry Juice
All Berry drinks – JUNIOR size
A$6.20
All Berry drinks – MEDIUM size
A$7.20
All Berry drinks – ORIGINAL size
A$7.80
All Berry Bang
A$7.80
Strawberry Squeeze
A$7.80
Berry Crush
A$7.80
Razzberry Mango
A$7.80
Banana Buzz
A$7.80
Mango Tango Crush
A$7.80
Watermelon Crush
A$7.80
Lychee Crush
A$7.80
Cheeky Juice
All Cheeky drinks – JUNIOR size
A$6.20
All Cheeky drinks – MEDIUM size
A$7.20
All Cheeky drinks – ORIGINAL size
A$7.80
King William Chocolate
A$7.80
Cookies & Creme
A$7.80
Raspberry Ripe
A$7.80
Coffee Dream
A$7.80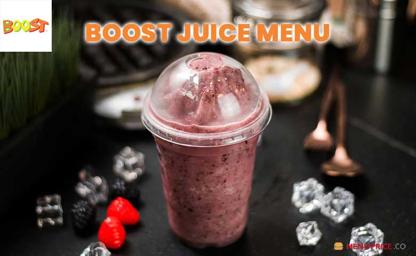 Boost Juice Australia FAQ
What are the Boost Juice menu prices near me?

Boost Juice has menu item prices between A$6.2 and A$9.2. Menu items range from lowest priced item All Tropical drinks – JUNIOR size to highest priced item Protein Supreme – original.
The price range of the menu of Boost Juice at the store generally varies between: