Daniels Donuts Menu Australia
Daniels Donuts has menu items like and Donuts in Australia.
Daniels Donuts is an Australian donut company that offers a wide variety of donuts at reasonable prices. The company has been in business for over 10 years and has a strong reputation for quality products and customer service. Daniels Donuts offers a wide range of donuts, including traditional favorites such as chocolate, vanilla, and strawberry, as well as more unique flavors such as green tea and cheesecake. The company also offers a variety of vegan and gluten-free options.
Donuts
Single – NZ Style Fresh Cream and Jam donut
A$3.50
Single – Apple Custard donut
A$3.50
Single – Nutella Caramel Popcorn donut
A$3.50
Single – Nutella Filled donut
A$3.50
Assorted (ambient) donuts x6
A$15.00
Assorted (refrigerated) donuts x6
A$15.00
NZ Style Fresh Cream & Jam donuts x6
A$11.90
Gluten Free donuts x6
A$15.00
Vegan donuts x6
A$15.00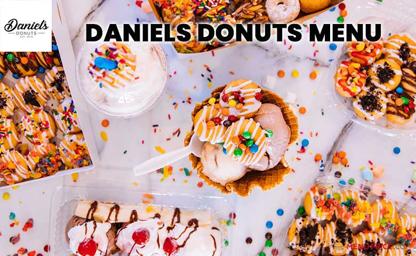 Daniels Donuts Australia FAQ
What are the Daniels Donuts menu prices near me?

Daniels Donuts has menu item prices between A$3.5 and A$15.0. Menu items range from lowest priced item Single – NZ Style Fresh Cream and Jam donut to highest priced item Assorted (ambient) donuts x6.
The price range of the menu of Daniels Donuts at the store generally varies between:
Daniels Donuts Australia Menu Categories