Nandos Menu Australia
Nandos has menu items like Meal Bundles, Snacks, Flame-grilled PERi-PERi Chicken, Salads & Bowls, Burgers, Wraps & Pitas, Great Pretender Faves, Sides, Kids, Drinks, Desserts and Nando's Sauces in Australia.
Nandos is a popular chicken restaurant chain originating from South Africa. The company first arrived in Australia in 2008, and has since then expanded to over 80 locations across the country. Nandos offers a variety of chicken-based meals including burgers, wraps, and salads. The average price of a meal at Nandos is around $10-$15. While this may be considered expensive by some, many Australians believe that the quality of the food justifies the cost. Overall, Nandos is a popular restaurant chain with a wide appeal among Australians of all ages.
Meal Bundles
Chicken Meal For One
A$29.50
Whole Chicken Feast
A$43.95
Burger Meal For One
A$26.50
Burger Buddies Meal
A$44.95
Snacks
PERi-PERi Grilled Tender
A$3.50
Cheesy Garlic Mini Pita
A$4.50
4 BBQ Ribs
A$6.50
Creamy Hummus with PERi-PERi Drizzle & Pita
A$7.50
Perfect Pair
A$9.95
Flame-grilled PERi-PERi Chicken
1/4 PERi-PERi Chicken
A$9.50
1/2 PERi-PERi Chicken
A$14.95
4 PERi-PERi Tenders
A$11.95
8 BBQ Ribs
A$11.95
Whole PERi-PERi Chicken
A$22.95
Whole PERi-PERi Chicken+1 Large Side
A$29.95
Whole PERi-PERi Chicken+2 Large Sides
A$37.50
2 Whole PERi-PERi Chickens+2 Large Sides
A$58.95
2 Whole PERi-PERi Chickens+3 Large Sides
A$65.95
Two's A Party
A$37.50
Mixed Platter - 1/2 Chicken
A$37.50
Mixed Platter - Whole Chicken
A$45.50
Paella Grande
A$22.95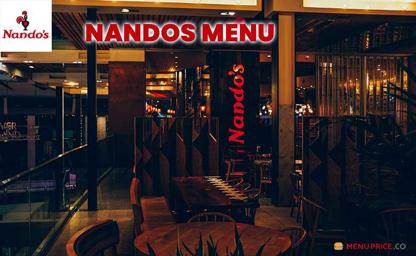 What are the Nandos menu prices near me?

Nandos has menu item prices between A$1.95 and A$65.95. Menu items range from lowest priced item PERinaise Chip Dip to highest priced item 2 Whole PERi-PERi Chickens+3 Large Sides.
The price range of the menu of Nandos at the store generally varies between:

What is Nandos Australia Website Link?

Nandos Australia official website is https://www.nandos.com.au/
Nandos Australia Menu Categories